VAG VIN Decoder for Android
Description
Features
What are: VIN, options codes, engine code and where to find them.
Screen shots
Download
This software allows you to decode by typing or scanning the following:
Vehicle Identification Number( VIN)
Options codes
Engine code
Only for Volkswagen Group cars: Volkswagen, Audi, Skoda, SEAT.
Also, by entering only the first three characters from VIN it will decode the WMI( World Manufacturer Identifier) for all other car brands.
Type or scan code to be decoded.
Decodes the following:

Vehicle Identification Number( VIN) - Beta version( we are working to create a comprehensive database of car models)
Options codes
Engine code
Decodes WMI World Manufacturer Identifier for unsupported car brands. First 3 characters from VIN

History: Saves searched codes
Decodes VIN code even without the last 6 characters - if concerned for your privacy you may enter nothing or 000000 for VIN last 6 characters
To use this application an internet connection is required.
VIN - the abreviation of Vehicle Identification Number. This is a unique serial number( 17 characters) used by the automotive industry to identify individual motor vehicles. I, O and Q - are not used in VIN
Options codes - codes of optional packages installed on your car. Usually formed of 3 characters(e.g. H3Z means All-weather tires 205/65 R 15 H).
Engine code - code identifier dor your engine. 2, 3 or 4 characters long( e.g. BMN).

Where to find those codes?
VIN - The first place to look is by stanfing outside the vehicle look on the driver's side at the corner of the dashboard where it meets the windshield.
If not found, open the driver's door. Look at the door post. Also a good place to check is the Inspection Booklet of your car.
Options codes - Check your Inspection Booklet. Also you may check the place where the spare tire is located.
Engine code - Check your Inspection Booklet, at driver's door or under the hood.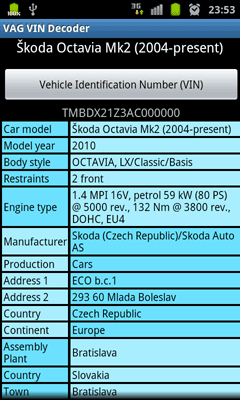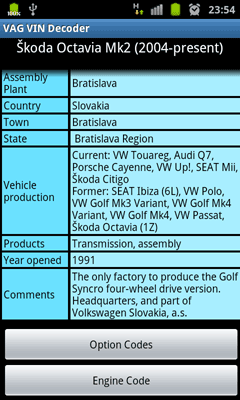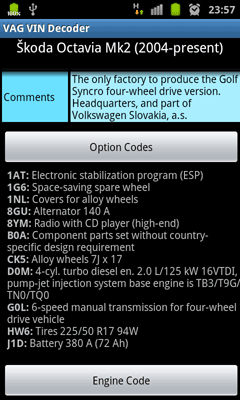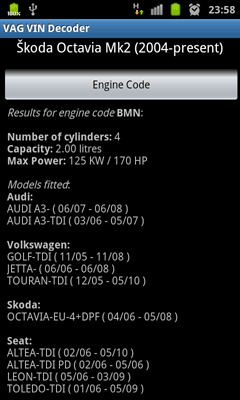 Ad supported version:
Download from: